FEATURED VIDEO
FEATURED ARTICLE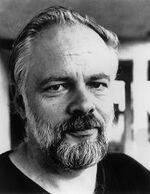 Philip K. Dick-
Philip Kindred Dick (d. December 16, 1928 Chicago, Illinois b. March 2, 1982, Santa Ana, California) , often known by his initials PKD, was an American science fiction writer and author of Do Androids Dream of Electric Sheep?, the basis for the 1982 movie [1].
In addition to thirty-eight books currently in print, Dick produced a number of short stories and minor works which were published in pulp magazines. At least seven of his stories have been adapted into films. Though hailed during his lifetime by peers such as Stanisław Lem, Robert A. Heinlein and Robert Silverberg, Dick received little general recognition until after his death.
Foreshadowing the cyberpunk sub-genre, Dick brought the anomic world of California to many of his works, drawing upon his own life experiences in novels like
A Scanner Darkly
. His novels and stories frequently used plot devices such as alternate universes and simulacra, worlds inhabited by common working people, rather than galactic elites. "There are no heroics in Dick's books," Ursula K. LeGuin wrote, "but there are heroes. One is reminded of [Charles] Dickens: what counts is the honesty, constancy, kindness and patience of ordinary people."
Read more...
BUREAU NEWS
Loading RSS data...
ADJUSTMENT BLOGS
Guess what PKD fans! The Warner Bros-based finance company, Alcon Entertainment co-founders and co-Chief Executive Officers Broderick Johnson and Andrew Kosove, are in the final stages of negotiation…

Read more >

If you've read the original short story - Adjustment Team - by author Philip K. Dick, see if you can cite some of the differences between the original story and the film HERE on The Adjustment Bureau…

Read more >
Ad blocker interference detected!
Wikia is a free-to-use site that makes money from advertising. We have a modified experience for viewers using ad blockers

Wikia is not accessible if you've made further modifications. Remove the custom ad blocker rule(s) and the page will load as expected.